Purcari Wine Tour
Where:Purcari, Stefan Voda, Moldova
Duration:1 - 2 hours
You are very welcome to the Purcari Winery Complex which includes a wine factory, hotel with eight luxury rooms, restaurant, tennis Court, fishing areas, billiard room, and barbecue terrace. This exceptional wine tour will show you the magic of the top-of-the-line wine making process. You will see the journey of the method of taking fresh, sweet grapes that transform into a wonderful, quality wines with famous blends as "Rosu de Purcari" and "Negru de Purcari". Guests are also welcome to see the cellars where the authentic French-oak barrels are used to age the wine. The tourist complex makes Purcari a perfect place for business meetings, seminars, trainings and other corporate events and celebrations. The restaurant capacity of 200 persons for "la fourchettes", and 120 persons for banquets.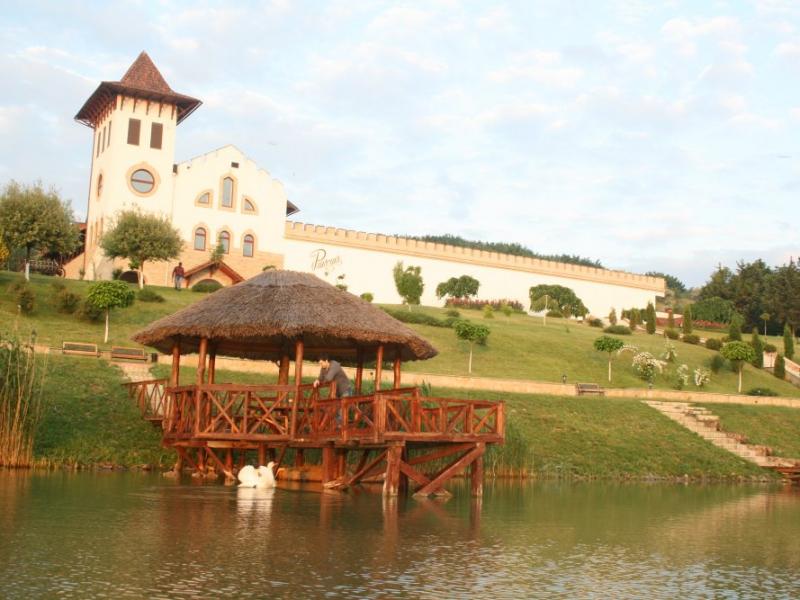 Photo Gallery
Overview
In 1827, Emperor of Russia Nicholas I issued a special decree granting Purcari the status of the first specialized winery in Bessarabia. It was named in honor of one of the founders originating from Germany – Harmizone. Since then, the owners of Purcari have become Moldovan boyars (barons) Dancila and Clot, but also other Germans, Russians and French. Two decades later, at the Agricultural Bessarabian Fair, Purcari received its first gold medal.
By 1878, the winery was being celebrated in a closed wine tasting at the Paris World Expo. French experts were impressed with a dry wine of an intense ruby color, being sure that it was a new Bordeaux wine. What a surprise when they found it had originated in a small village on the banks of the Dniester River. In such a way, the Negru de Purcari wine won its first gold medal at an international exhibition.
For a long time, Purcari wines were as popular as Bordeaux or Burgundy wines. The wine was served to Emperor Nicholas II as well as King George V and Queen Victoria of Great Britain. Sold in Denmark, Netherlands, Sweden, Germany and France, Purcari wines were highly appreciated and continued to win international acclaim.
Emerging from war, a new era in Purcari's history started in 1950, when the Moldovan wine makers restored the classic production techniques of the famous wines. One of the greatest professionals of that time – Pimen Cupcea, reconstructed the legendary Negru de Purcari, while Ion Ungureanu created a new masterpiece – Purpuriu de Purcari. Purcari wines once again achieved wide popularity, and became synonymous with the the Republic of Moldova.
At the turn of the century, Château Purcari replanted 250 hectares of vineyards, and installed state-of-the-art technology at the winery. As Moldova's most prestigious export, Purcari lead the nation's international development by entering into over 25 markets including the US, Canada, UK, Norway, Czech Republic, China, Poland, and the Baltic countries.
In 2010, the company launched Alb de Purcari – a new vintage that has been garnering a number of international awards and recognitions.
By 2012, the Purcari collection boasted Icewine, derived from frozen Muscat Ottonel and Traminer grapes. For outstanding achievements in winemaking and promoting Moldova's image abroad, Purcari Winery became the owner of Grand Prix in wine making, awarded by the Republic of Moldova Government. The last decade of Purcari's almost two centuries has seen the winery reach its most advanced and complex stage of its development. With the vineyards planted in 2003 reaching maturity, the quality of the grapes has improved significantly. The Château is poised to once again compete for discerning palates around the world.
Wine Tours Packages

Price per 1 person, MDL

Group 1-2 person
Group 3-4 person
Group 5-7 person
Group more than 8 person

Without
souvenir

With
souvenir

Without
souvenir

With
souvenir

Without
souvenir

With
souvenir

Without
souvenir

With
souvenir

Pack #1
Excursion + wine tasting 3 wines

300

450

230

390

190

350

170

330

Pack #2
Excursion + wine tasting 3* premium wines

310

470

250

410

200

360

180

340

Pack #3
Excursion + wine tasting 3** premium plus wines

-

-

-

-

220

380

200

360

Pack #4
Excursion + wine tasting 4 wines

320

480

260

420

210

370

190

350

Pack #5
Excursion + wine tasting 4* premium plus wines

-

-

-

-

230

390

210

370

Pack #6
Excursion + wine tasting 5* premium plus wines

-

-

-

-

260

420

230

390

Pack #7
Excursion + wine tasting 5 wines

360

520

300

460

260

420

230

390

Pack #8
Excursion + wine tasting 6 wines Vinohora

600

750

450

580

350

490

290

420

Pack #9
Excursion + wine tasting 8 wines

570

730

440

600

360

520

310

480

Pack #10
Excursion + wine tasting 10 wines

720

880

530

690

420

580

340

500

Price for Excursion only - 95 MDL / Person
SOUVENIR includes:
- 3 bottles.* 0,375 l.
- Booklet "Purcari Winery".
- CD with a presentation film "Purcari" Winery.
Exchange rate MDL to Euro you may find here