Moldova Hotel. Radisson Blu Leogrand Hotel in Chisinau
Radisson Blu Leogrand Hotel
Where:77 Mitropolit Varlaam str., Chisinau, Moldova
Radisson Blu Leogrand Hotel is a dazzling jewel among the hotels, as it is considered one of the best hotels in the town for its luxury services and beauty. Located in the center of the city, it is close to the area's major government and business centres, shopping centres, theatres, cinemas, and cultural sightseeing attractions. Due to its situation in a great location, the hotel offers exclusive conference facilities and an elegant environment. Radisson Blu Leogrand Hotel certainly deserves all the positive feedback it receives from visitors and guests. The unique style and ambiance will impress you from the first view- a wonderful combination of European and Oriental cultural elements, elegant interior and exterior design, everything is made for the comfort of a first class stay. This hotel is very popular and its 143 rooms are full almost all year long. This hotel is preferred by businessmen and tourist groups for its ambiance and close location to the Central Park with its Cathedral and Main Square. The area is enriched with bars, pubs and restaurants; you can find a Franch Caffe or an Irish Pub just 2 minutes walk from the hotel.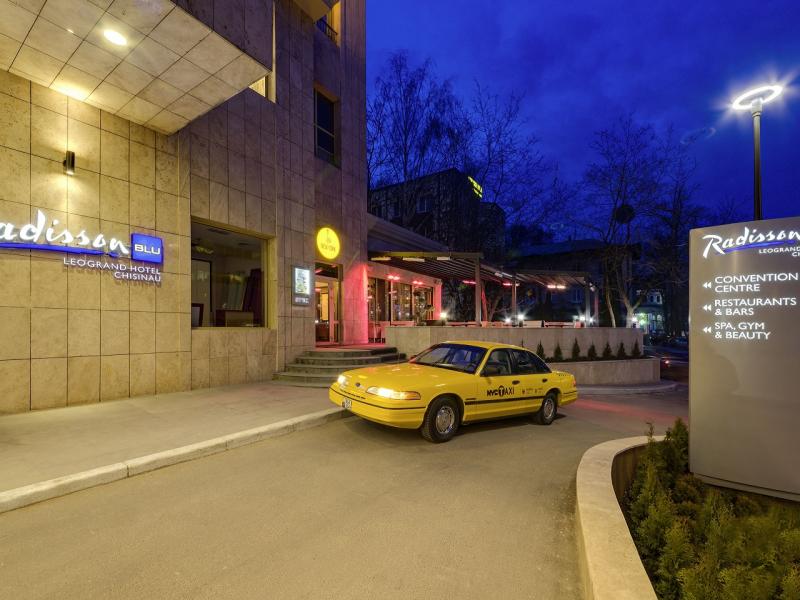 Photo Gallery
Overview
Located in Chisinau city center, the Radisson Blu Leogrand Hotel is within walking distance of Sky Tower Business Center. Many embassies and businesses are only a few minutes away. You can visit attractions such as Nativity Cathedral and Stefan Cel Mare Park, and arrange a winery tour with the help of our concierge desk. We offer transfer service to and from Chisinau International Airport, just 15 kilometers from the hotel.
Each of our 143 recently refurbished rooms and suites includes Free high-speed, wireless Internet and other convenient amenities. Enjoy the Super Breakfast Buffet in our Ambassador Restaurant, which also serves lunch and dinner. The New York Restaurant Bar & Grill offers classic American fare in a casual setting. For those who want a fine dining experience, Zaxi pairs live music and panoramic city views with food from award-winning chefs.
Visit our Lotus Spa and Beauty Center when you need to unwind. Guests enjoy free entrance to the fitness club and can choose to de-stress with a massage at the Aqua Zone. Our newly opened Nuovo Casino invites you to try your luck at slot machines, blackjack, poker, American roulette and many more games. In addition, our hotel's 6 meeting rooms and convention center make it an ideal conference venue.
Rooms available:
| | |
| --- | --- |
| Room | Price, euro |
| Standart | from 86* |
| Business Class | from 106* |
| Junior Suite | from 133* |
| Executive Suite | from 173* |
| Presidential Suite | from 245* |
* Breakfast included
Room features:
Free WIFI access, water, tea/coffee table, minibar, slippers, iron & iron board, hair dryer, in room safe
CANCELLATION POLICY:
Cancel by 18:00 hotel time the day before check in date = no penalty.
Late cancel or no show – the rate for one night will be charged.