Nobil Luxury Boutique Hotel
Nobil Luxury Boutique Hotel
Where:49/1 Eminescu str., Chisinau, Moldova
The Nobil Club was opened in 1999 and was initially founded as a private club for diplomats and businessmen. It is the best, the most well known in Moldova, prestigious boutique hotel, which can surely receive the rank of a five-star hotel for its luxury and comfort and its first class quality services and amenities. Made of comfort, style, elegance - Nobil Luxury Boutique Hotel is Moldova's masterpiece hotel. From the first view, guests will witness the characteristics of a traditional English Club, equipped with expensive wooden furniture and textiles. The soft combination of brown, red and beige colors, the antique clock and musical instruments, leaves an unforgettable impression and a feeling of home. Located in the center of the city, it takes 20 minutes from the airport to reach the hotel easily.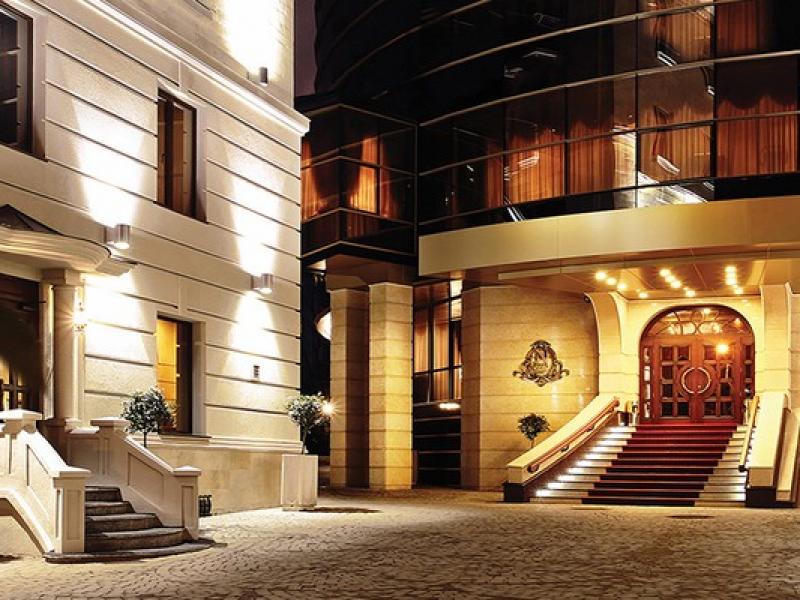 Photo Gallery
Overview
All room's interiors in the Nobil Luxury Boutique Hotel are exclusively designed in a classic, but extremely elegant and chic style. New Italian furniture of the very best quality from Francesco Molon will make your stay in the hotel so enjoyable, that you won't like to leave it.
Located in the center of the city, it takes 20 minutes from the airport to reach the hotel easily. The hotel is located close to many restaurants and pubs and just around the corner; guests can try Uzbec specialties at the Caravan Restaurant or try one of the many beer brands available in the German Pub Beer Platz. There are many well-known boutiques and shops on the same street as the Nobil Club, and the brand new business and shopping center Sun City is just 10 minutes walk distance.
The Bar-Restaurant is open 24 hours at your service. Here you can enjoy the magical atmosphere filled with live music that will take you to the Silver Century. In the "Nobil" Restaurant, you can try a great variety of fine dishes, offering Moldavian, American, German, French, Italian and Hungarian cuisine.
Rooms available:
| | |
| --- | --- |
| Room | Price, euro |
| Single | 135 |
| Double | 145 |
| Deluxe Double | 200 |
| Junior Suite | 255 |
| Executive Suite | 300 |
| Ambassador Suite | 510 |
| Honeymoon Suite | 510 |
| Winter Garden Suite | 850 |
| Presidential Suite | 1,275 |
Room features:
Free Wi-Fi, work desk, workplace lighting, alarm clock, mini-bar, safe deposit box individual air conditioning & climate control, plasma TV.
Additional Services:
24-hour room service, 24-hour Concierge services, Business Center services, Gym.