Art Rustic Boutique Hotel
Art Rustic Boutique Hotel
Where:79/1 A. Hajdeu str., Chisinau, Moldova
Opened in 2006, hotel Art-Rustic represents a small home-style hotel having a very exclusive rustic style design. This modern hotel was built in the center of Chisinau as an alternative to the classical hotels we all got used to. This is mostly because the specific exterior and interior and because of its very unique warm atmosphere. One of the Art-Rustic hotel's benefits is of course its very good location in the city center, 20 minutes from the International Airport, close to all important cultural, religious, administrative and entertainment objects which definitely worth to be visited. Among those Central Cathedral, Central Park, Government and Parliament house, Opera and Ballet Palace, Russian Drama Theatre of Anton Chekhov, shopping and entertaining center Sun City, Napoleon Casino, NORI Japanese Restaurant and many others. Each room is decorated in its own way and color trends and equipped with very modern furniture.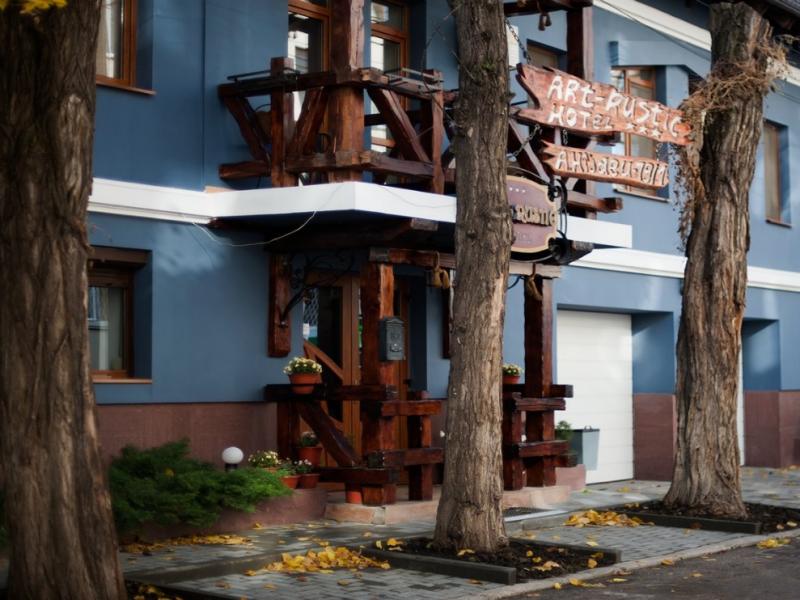 Photo Gallery
Overview
Hotel Art-Rustic is offering 13 rooms and may receive 36 guests at the same time. All rooms differ one from another having unique rustic style, size, color trend and design with state-of-the-art in-room entertainment and technology, a dedication to cozy comfort and an almost obsessive attention to detail. Rooms are equipped with French beds, wardrobes, dressing tables, TV sets, Internet access, fridges, mini-bars, air conditioners and hairdryers. Most of the rooms have balconies with sitting areas. Breakfast is included into the price and is served in hotel's lobby bar on the first floor.
Located on a quiet street in the heart of Chisinau, this boutique hotel offers modern-vintage rooms with an traditional Romanian style, which together with an ideal location are equally appealing to both business and leisure guests.
Guests will receive traditional Moldavian hospitality in a warm and social atmosphere. The impeccable level of service and personal touches, ensure that every stay at Art Rustic Hotel is memorable. It's the perfect to call home while in Chisinau, as nothing is too much trouble for the dedicated staff who ensure that every guest leaves feeling that they were the most important person to ever experience this hotel.
The Art Rustic Hotel pays meticulous attention to detail not only in the upkeep of the hotel itself, but in the service provided: fresh flowers, complimentary afternoon tea and evening bar are just some of the extras that make The Art Rustic hotel a particularly special boutique hotel in a surprisingly peaceful location in Chisinau.
Rooms available:
| | |
| --- | --- |
| Room | Price, euro |
| Single Econom | 45 |
| Double Econom | 50 |
| Twin Econom | 50 |
| Single Standard | 60 |
| Double Standard | 60 |
Room features:
matrimonial bed, wardrobes, dressing table, satellite TV, telephone, internet, AC and heating, minibar, bathtub and shower, hairdryer.